Permian Basin International Oil Show a Resounding Success
Tuesday, November 15, 2016 - 11:30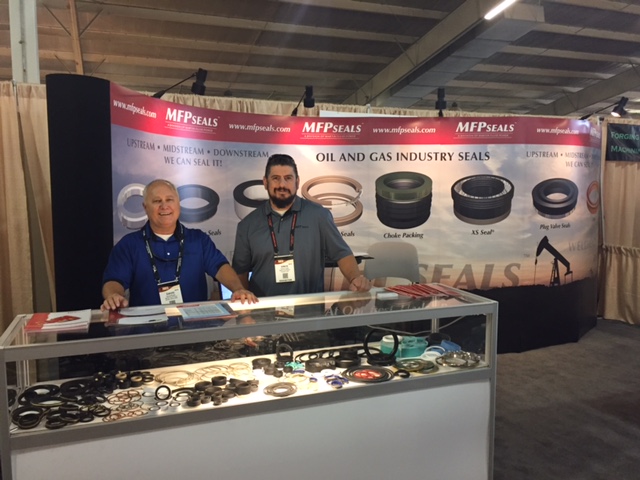 What a week! From October 18 - 20, thousands of oil and gas industry leaders descended upon the Ector County Coliseum in Odessa, Texas for the Permian Basin International Oil Show. Martin Fluid Power Seals is proud to have been a part of this fantastic event. Staff from our Houston, Texas office attended with a focus on how Martin Fluid Power Seals products from U-Packing to Plug Valve seals to our patented X-Pac technology can help support companies throughout the most important oil and gas basin in the world.
Houston, Texas Manager Vince Lopez and Dave Rozar kept attendees engaged with riveting discussion of upstream, midstream, and downstream sealing, oil and gas seals, o-ring specifications, and more. Attendees stopped by our two Martin Fluid Power Seal booths to learn about how our product lines will help maximize their return on investment in an already competitive oil and gas field. And while the Permian Basin International Oil Show is meant as a display of innovation, progress, and appreciation for industry history, it was hard not to have a little fun.
Hydrocarbon pipeline company Polyflow featured a signed Dak Prescott jersey available for one lucky attendee. Looking at the NFC standings, we wouldn't mind seeing Tony Romo return to his starting position when he comes off the injured reserve list. Why? No reasons.
It wouldn't be an oil and gas industry trade show without more swag than you could shake a John Crane Production Solutions 34-inch fiberglass sucker rod sample at. From Yo-Yos to spoon-shaped fishing lures, 5-gallon NAPA buckets to keychain flashlights and custom poker chips, attendees left with far more than they arrived with. It's just another part of what made this event a success. We are already looking forward to the innovation, technology, and swag of 2017.