Rod U-Cups: XPR Asymmetrical Rod Seal
XPR B-lip X-Pac® U-Cup is a versatile reciprocating seal for linear rod applications, up to 400 bar. The rubber expander creates a compression style seal while still operating as a pressure actuated U-Cup design. The result is better low-pressure sealing and less startup leakage. The XPR X-Pac® features a Twin-Lip design which offers increased seal stability and superior sealing ability. MFP Seals' X-Pac® U-Cups feature a knife trimmed sealing lip for increased sealing ability.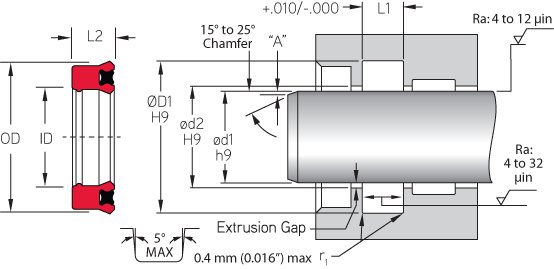 For pricebreaks, please login to your online account.
| MFP Part Number | ød1 | ød2 | ØD1 | L1 | L2 | | |
| --- | --- | --- | --- | --- | --- | --- | --- |
| XPR-125-00.750-250BU2151 | 0.750 | 0.751 | 1.000 | 0.275 | 0.250 | $0.00 | Add |
| XPR-125-00.875-250BU2151 | 0.875 | 0.876 | 1.125 | 0.275 | 0.250 | $0.00 | Add |
| XPR-125-01.000-250BU2151 | 1.000 | 1.001 | 1.250 | 0.275 | 0.250 | $0.00 | Add |
| XPR-125-01.250-250BU2151 | 1.250 | 1.251 | 1.500 | 0.275 | 0.250 | $0.00 | Add |
| XPR-125-01.500-250BU2151 | 1.500 | 1.501 | 1.750 | 0.275 | 0.250 | $0.00 | Add |
| XPR-187-01.500-375BU2151 | 1.500 | 1.501 | 1.875 | 0.413 | 0.375 | $0.00 | Add |
| XPR-250-02.000-375BU2151 | 2.000 | 2.001 | 2.500 | 0.413 | 0.375 | $0.00 | Add |
| XPR-250-02.500-375BU2151 | 2.500 | 2.501 | 3.000 | 0.413 | 0.375 | $0.00 | Add |
| XPR-250-02.750-375BU2151 | 2.750 | 2.751 | 3.250 | 0.413 | 0.375 | $0.00 | Add |