Rod U-Cups: RTL Asymmetrical Rod seal
MFP Seals' RTL Rod Seal U-Cup is an asymmetrical design cup seal for use in hydraulic applications. The twin lip design offers increased seal stability while the knife-trimmed primary lip provides superior sealing ability. The design was enhanced using finite element analysis giving you the best product on the market. Produced from our U2151 compound the seal offers extremely low compression set and excellent extrusion resistance.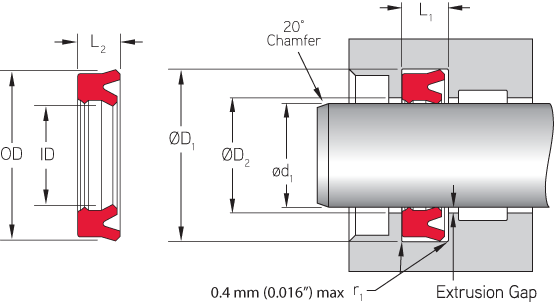 For pricebreaks, please login to your online account.
| MFP Part Number | ød1 | ød2 | ØD1 | L2 | L1 | | |
| --- | --- | --- | --- | --- | --- | --- | --- |
| RTL-125-00.625-250U2151 | 0.062 | 0.063 | 0.875 | 0.250 | 0.275 | --- | Add to RFQ |
| RTL-125-00.750-250U2151 | 0.750 | 0.751 | 1.000 | 0.250 | 0.275 | --- | Add to RFQ |
| RTL-125-00.875-250U2151 | 0.875 | 0.876 | 1.125 | 0.250 | 0.275 | --- | Add to RFQ |
| RTL-125-01.000-250U2151 | 1.000 | 1.001 | 1.250 | 0.250 | 0.275 | --- | Add to RFQ |
| RTL-125-01.125-250U2151 | 1.125 | 1.126 | 1.375 | 0.250 | 0.275 | --- | Add to RFQ |
| RTL-125-01.250-250U2151 | 1.250 | 1.251 | 1.500 | 0.250 | 0.275 | --- | Add to RFQ |
| RTL-125-01.375-250U2151 | 1.375 | 1.376 | 1.625 | 0.250 | 0.275 | --- | Add to RFQ |
| RTL-125-01.500-250U2151 | 1.500 | 1.501 | 1.750 | 0.250 | 0.275 | --- | Add to RFQ |
| RTL-156.01.000-219U2151 | 1.000 | 1.001 | 1.312 | 0.218 | 0.240 | --- | Add to RFQ |
| RTL-156.01.375-219U2151 | 1.375 | 1.376 | 1.687 | 0.218 | 0.240 | --- | Add to RFQ |
| RTL-187-01.000-187U2151 | 1.000 | 1.001 | 1.375 | 0.187 | 0.206 | --- | Add to RFQ |
| RTL-187-01.000-312U2151 | 1.000 | 1.001 | 1.375 | 0.312 | 0.343 | --- | Add to RFQ |
| RTL-187-01.125-312U2151 | 1.125 | 1.126 | 1.500 | 0.312 | 0.343 | --- | Add to RFQ |
| RTL-187-01.250-187U2151 | 1.250 | 1.251 | 1.625 | 0.187 | 0.206 | --- | Add to RFQ |
| RTL-187-01.250-250U2151 | 1.250 | 1.251 | 1.625 | 0.250 | 0.275 | --- | Add to RFQ |
| RTL-187-01.250-312U2151 | 1.250 | 1.251 | 1.625 | 0.312 | 0.343 | --- | Add to RFQ |
| RTL-187-01.312-312U2151 | 1.312 | 1.313 | 1.687 | 0.312 | 0.343 | --- | Add to RFQ |
| RTL-187-01.375-187U2151 | 1.375 | 1.376 | 1.750 | 0.187 | 0.206 | --- | Add to RFQ |
| RTL-187-01.375-312U2151 | 1.375 | 1.376 | 1.750 | 0.312 | 0.343 | --- | Add to RFQ |
| RTL-187-01.500-250U2151 | 1.500 | 1.501 | 1.875 | 0.250 | 0.275 | --- | Add to RFQ |
| RTL-187-01.500-312U2151 | 1.500 | 1.501 | 1.875 | 0.312 | 0.343 | --- | Add to RFQ |
| RTL-187-01.500-375U2151 | 1.500 | 1.501 | 1.875 | 0.375 | 0.413 | --- | Add to RFQ |
| RTL-187-01.750-250U2151 | 1.750 | 1.751 | 2.125 | 0.250 | 0.275 | --- | Add to RFQ |
| RTL-187-01.750-312U2151 | 1.750 | 1.751 | 2.125 | 0.312 | 0.343 | --- | Add to RFQ |
| RTL-187-01.750-375U2151 | 1.750 | 1.751 | 2.125 | 0.375 | 0.413 | --- | Add to RFQ |
| RTL-187-02.000-250U2151 | 2.000 | 2.001 | 2.375 | 0.250 | 0.275 | --- | Add to RFQ |
| RTL-187-02.000-312U2151 | 2.000 | 2.001 | 2.375 | 0.312 | 0.343 | --- | Add to RFQ |
| RTL-187-02.000-375U2151 | 2.000 | 2.001 | 2.375 | 0.375 | 0.413 | --- | Add to RFQ |
| RTL-187-02.125-312U2151 | 2.125 | 2.126 | 2.500 | 0.312 | 0.343 | --- | Add to RFQ |
| RTL-187-02.250-335U2151 | 2.250 | 2.251 | 2.625 | 0.250 | 0.275 | --- | Add to RFQ |
| RTL-187-02.500-375U2151 | 2.500 | 2.501 | 2.875 | 0.375 | 0.413 | --- | Add to RFQ |
| RTL-187-02.625-312U2151 | 2.625 | 2.626 | 3.000 | 0.312 | 0.343 | --- | Add to RFQ |
| RTL-187-02.625-375U2151 | 2.625 | 2.626 | 3.000 | 0.375 | 0.413 | --- | Add to RFQ |
| RTL-187-02.750-312U2151 | 2.750 | 2.751 | 3.125 | 0.312 | 0.343 | --- | Add to RFQ |
| RTL-187-02.750-375U2151 | 2.750 | 2.751 | 3.125 | 0.375 | 0.413 | --- | Add to RFQ |
| RTL-187-03.000-375U2151 | 3.000 | 3.001 | 3.375 | 0.375 | 0.413 | --- | Add to RFQ |
| RTL-187-03.375-312U2151 | 3.375 | 3.376 | 3.750 | 0.312 | 0.343 | --- | Add to RFQ |
| RTL-187-04.000-375U2151 | 4.000 | 4.001 | 4.375 | 0.375 | 0.413 | --- | Add to RFQ |
| RTL-218-02.500-281U2151 | 2.500 | 2.501 | 2.937 | 0.281 | 0.312 | --- | Add to RFQ |
| RTL-218-03.000-281U2151 | 3.000 | 3.001 | 3.437 | 0.281 | 0.312 | --- | Add to RFQ |
| RTL-250-01.250-375U2151 | 1.250 | 1.251 | 1.750 | 0.375 | 0.413 | --- | Add to RFQ |
| RTL-250-01.500-250U2151 | 1.500 | 1.501 | 2.000 | 0.250 | 0.275 | --- | Add to RFQ |
| RTL-250-01.500-375U2151 | 1.500 | 1.501 | 2.000 | 0.375 | 0.413 | --- | Add to RFQ |
| RTL-250-01.750-250U2151 | 1.750 | 1.751 | 2.250 | 0.250 | 0.275 | --- | Add to RFQ |
| RTL-250-01.750-375U2151 | 1.750 | 1.751 | 2.250 | 0.375 | 0.413 | --- | Add to RFQ |
| RTL-250-01.875-375U2151 | 1.875 | 1.876 | 2.375 | 0.375 | 0.413 | --- | Add to RFQ |
| RTL-250-02.000-250U2151 | 2.000 | 2.001 | 2.500 | 0.250 | 0.275 | --- | Add to RFQ |
| RTL-250-02.000-375U2151 | 2.000 | 2.001 | 2.500 | 0.375 | 0.413 | --- | Add to RFQ |
| RTL-250-02.250-375U2151 | 2.250 | 2.251 | 2.750 | 0.375 | 0.413 | --- | Add to RFQ |
| RTL-250-02.500-375U2151 | 2.500 | 2.501 | 3.000 | 0.375 | 0.413 | --- | Add to RFQ |
| RTL-250-03.000-375U2151 | 3.000 | 3.001 | 3.500 | 0.375 | 0.413 | --- | Add to RFQ |
| RTL-250-03.375-375U2151 | 3.375 | 3.376 | 3.875 | 0.375 | 0.413 | --- | Add to RFQ |
| RTL-250-03.500-312U2151 | 3.500 | 3.501 | 4.000 | 0.312 | 0.343 | --- | Add to RFQ |
| RTL-250-03.500-375U2151 | 3.500 | 3.501 | 4.000 | 0.375 | 0.413 | --- | Add to RFQ |
| RTL-250-04.000-375U2151 | 4.000 | 4.001 | 4.500 | 0.375 | 0.413 | --- | Add to RFQ |
| RTL-250-04.500-375U2151 | 4.500 | 4.501 | 5.000 | 0.375 | 0.413 | --- | Add to RFQ |
| RTL-250-04.500-562U2151 | 4.500 | 4.501 | 5.000 | 0.562 | 0.618 | --- | Add to RFQ |
| RTL-250-05.000-375U2151 | 5.000 | 5.001 | 5.500 | 0.375 | 0.413 | --- | Add to RFQ |
| RTL-250-05.000-562U2151 | 5.000 | 5.001 | 5.500 | 0.562 | 0.618 | --- | Add to RFQ |
| RTL-250-05.500-562U2151 | 5.500 | 5.501 | 6.000 | 0.375 | 0.413 | --- | Add to RFQ |
| RTL-250-05.500-562U2151 | 5.500 | 5.501 | 6.000 | 0.562 | 0.618 | --- | Add to RFQ |
| RTL-312-03.000-500U2151 | 3.000 | 3.001 | 3.625 | 0.500 | 0.550 | --- | Add to RFQ |
| RTL-312-03.500-500U2151 | 3.500 | 3.501 | 4.125 | 0.500 | 0.550 | --- | Add to RFQ |
| RTL-312-04.000-500U2151 | 4.000 | 4.001 | 4.625 | 0.500 | 0.550 | --- | Add to RFQ |
| RTL-312-04.500-625U2151 | 4.500 | 4.501 | 5.125 | 0.625 | 0.688 | --- | Add to RFQ |
| RTL-312-05.250-625U2151 | 5.250 | 5.251 | 5.875 | 0.625 | 0.688 | --- | Add to RFQ |
| RTL-312-05.500-312U2151 | 5.500 | 5.501 | 6.125 | 0.312 | 0.343 | --- | Add to RFQ |
| RTL-375-04.000-625U2151 | 4.000 | 4.001 | 4.750 | 0.625 | 0.688 | --- | Add to RFQ |
| RTL-375-04.500-625U2151 | 4.500 | 4.501 | 5.250 | 0.625 | 0.688 | --- | Add to RFQ |
| RTL-375-05.000-500U2151 | 5.000 | 5.001 | 5.750 | 0.500 | 0.550 | --- | Add to RFQ |
| RTL-375-05.500-625U2151 | 5.500 | 5.501 | 6.250 | 0.625 | 0.688 | --- | Add to RFQ |
| RTL-375-06.000-625U2151 | 6.000 | 6.001 | 6.750 | 0.625 | 0.688 | --- | Add to RFQ |
| RTL-375-07.000-625U2151 | 7.000 | 7.001 | 7.750 | 0.625 | 0.688 | --- | Add to RFQ |