International Fluid Power Exposition 2017
Wednesday, February 22, 2017 - 14:00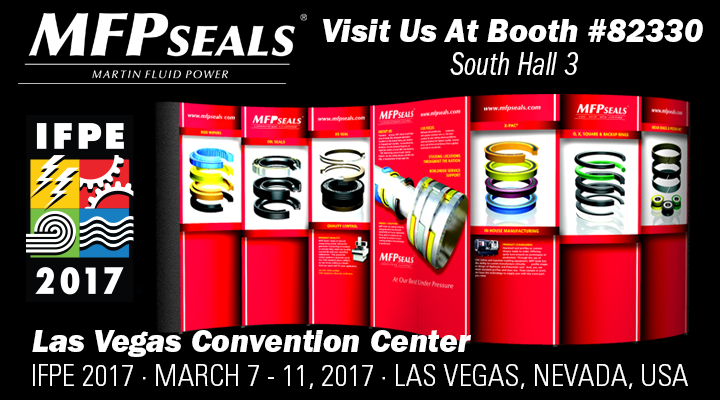 MFPSeals is happy to announce that we will be attending the International Fluid Power Exposition in Las Vegas, Nevada from March 7 – 11, 2017 at the Las Vegas Convention Center. Looking for the latest in sealing technologies? Visit our booth and introduce yourself. We will be in the South Hall, booth number 82330.
What's new at MFPSeals? New products, manufacturing capabilities, and equipment that keeps us on the cutting edge of engineering, design, production and packaging. What can you expect when you arrive at our booth? Our booth will be stocked with our latest sealing technologies and expertise. Ask us a question. We want to help. Whether you have a hydraulic or pneumatic sealing problem, we are sure to have the answer, off-the-shelf, or custom designed to fit your application.
Our goal is to "Seal in Success™." At MFPSeals we strive to embody that mantra. To our team, it means the successful performance of our sealing products. Each and every day, MFPSeals helps thousands of customers around the world meet their demanding fluid power needs through a plethora of sealing product solutions. Let us help you grow your business to new heights with the hydraulic sealing products you need to get the job done.
We look forward to speaking with you about how MFPSeals can be the answer to your fluid power needs. Need help locating our booth?
We hope to see you at the expo. If you are unable to attend or simply wish to see our smiling faces once again, MFPSeals will also be attending the Offshore Technology Conference at NGR Park in Houston, Texas. The event runs from May 1 – 4 and you will find us at booth number 2678 in the NGR Center.